Starting from hand-held tools to the introduction of machinery, agriculture has been at the forefront of technological revolution, getting there before many other industries. With many variables and decisions to be made throughout the farming cycle, innovation is the key to manage as many of those variables as possible.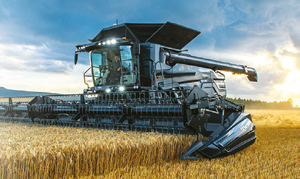 To help the global agriculture industry automate traditional farming practices and tackle challenges like rising global population, farm labor shortages, and uncertain weather, AGCO Corporation, the world's largest manufacturer of agriculture machinery and equipment, is offering innovative solutions and services to help farmers around the globe.
Founded in 1990, AGCO is globally well-known through its brands Challenger, Fendt, GSI, Massey Ferguson and Valtra. AGCO Corporation offers farmers worldwide, a full line of tractors, combine harvesters, hay and forage equipment, seeding and tillage implements, grain storage and protein production systems, and replacement parts.
Though specific needs of farmers vary from market to market, AGCO partners with every customer through every phase of the farming process, with an aim to boost agricultural productivity and reduce post-harvest waste.
AGCO's powerful engines and innovative design allow for cultivation, plowing, and tillage. The company's investment in new product development, innovative engine technologies enabled it to provide reliable engines with long lifespans, low running costs, high levels of power, torque, and low noise. AGCO's SCR-based (Selective Catalytic Reduction) technology allows engines to run more efficiently—optimizing combustion and thereby reducing fuel costs. Currently, AGCO Power manufactures 3, 4, 6, and 7-cylinder diesel engines with significant improvements in the combustion process, and it is actively exploring renewable fuel alternatives and electric solutions.
AGCO's innovatively designed harvesting machine comes in a range of sizes and capacities, offering advanced cutting, harvesting, separation, cleaning, and delivery capabilities. From spreaders to sprayers, AGCO's solutions allow farmers to accurately and efficiently apply nutrients and protectants for improved crop yield and reduced costs with environmentally controlled applications. AGCO provides seeding and tillage equipment for a wide variety of crops and conditions. AGCO also offers a range of drills and planters that deliver premium seed placement. AGCO's broad dealer network provides it with the ability to understand customers' needs. By taking constant feedback from customers, AGCO's designers work closely with suppliers, agronomists, and research institutions to create solutions that make a real difference in the field and on the bottom line.

AGCO believes that innovation can happen only with the right people. For a continuous innovation, AGCO Corporation invested in a 19,500-square-foot facility for its employee education initiatives AGCO University and AGCO Academy. AGCO University provides ongoing training to strengthen skills in management and leadership. AGCO Academy provides coursework and training to educate AGCO's dealers about the latest advancements in technology and design to enable them to deliver the best service to customers.

AGCO's aim to deliver high-tech solutions for farmers feeding the world aligns with their corporate social responsibility (CSR) priorities, which include food security and improving quality of life. As an environmental responsibility, AGCO aims to produce products in a less energy-intensive manner. The company has implemented a global environmental management system to track energy, water, waste generation, and health or safety performance across all its facilities. AGCO tracks its waste outputs by weight, type, and disposal method to encourage recycling in plants, reduce the inflow of waste materials, and reinforce lean manufacturing processes.

AGCO is making significant investments in developing customized solutions specific to Africa, in engineering food security and support sustainable productivity. In 2017, the company launched the AGCO Agribusiness Qualification (AAQ), an accredited twoyear agribusiness program at a Strathmore University in Kenya. The program is focused on developing talent, leadership, and strategic expertise to further drive African agricultural prosperity. Among many other noteworthy contributions to farmers around the world, AGCO has established a Retail Finance Partnership to offer low-rate financing for Zambian farmers to purchase vital farm equipment.